ICCF Congress 2016 takes place from 14th till 20th August in Free Hanseatic City of Bremen, Germany in Radisson Blu hotel, just around the corner of antique Böttcherstraße near Bremer Marktplatz, statue of Roland and famous Bremer Stadtmusikanten. At the same time Deutscher Fernschachbund, the organizer ( http://www.bdf-fernschachbund.de/bremen/ ) celebrates its 70th Anniversary. PHOTO-1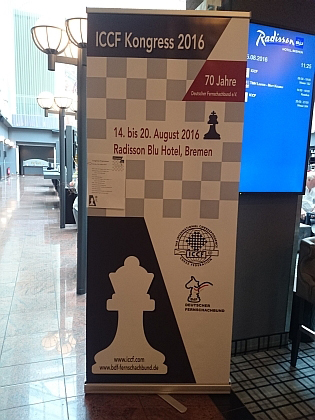 Knowing all this I was disappointed that German organizers – Deutscher Fernschachbund didn't have ANY promotional material. There wasn't any leaflet or a brochure about 70th anniversary of BdF neither a booth with chess books and memorabilia nor complementary copies of 5 German magazines devoted to chess.
So I think that promotional material that I created: Briefmarke Individuell with image of GM Ljubičić and "Tribute to Capablanca" folded card were welcomed inputs to make up for what was missing.
But then there was GM Fritz Baumbach as ICCF Honorary Member and 11th ICCF World Champion who brought two books, which he published. Even that I wouldn't have known hadn't it been for GM Arno Nickel who told me about the correspondence chess book by Baumbach, so I asked him.
That's how in one day I met and talked with two corr chess world champions – Baumbach and Ljubicic. As for GM Ljubičić, although we know each other very well, it was the first time that we met in person – and had nice, friendly chat on various subjects that were started in various emails. I assume it is like that with correspondence chess – with those people where camaraderie works, which is probably the best part of corr chess, we still don't know each other until we actually meet. A photo here and there perhaps, and opponent can even pass away without us meeting. Sadly it did happen to me.
The Baumbach book gave me a good excuse to address him, and he said I'll bring the "Fernschachdramen" book after the lunch break. Which eventually he did but he brought also another one: "Who is the Champion of the Champions?".
He is 80yr old now but looks very vital and told me that by his 80th birthday he had the best performance in recent times. You remember the man "Ties are broken by the: 1. Baumbach (most wins) 2. Sonneborn-Berger rules". Baumbach thinks that chess engines, which are used by everyone in ICCF, are affecting human creativity in chess. Less own thinking and ideas.
Both his books are quite charming with plenty of talking about chess and those distinguished corr chess players with extensively annotated games often by protagonists themselves, which gives these books an added value.
- Fernschachdramen F.Baumbach with S.Busemann, Verlag ChessCoatch, 
2014, (about the strongest corr tournament (2633 ELO Cat XVI) 
Hermann-Heemsoth invitation Tournament by BdF, 2008-2010), 
in German
- Who is the Champion of the Champions? - Correspondence Chess - 
F.Baumbach with R.Smith and R.Knobel, Excelsior Verlag, 2008,
(portraits and games of corr Champions from 1st C.J.S. Purdy (1953)
 till 21st Joop van Oosterom (2008)), ¾ in English ¼ in German
He was given by Italians as a present the abstract painting, kind of collage by an Italian painter, a huge framed image of a world map with German flag painted over and chess pieces applied on the painting surface. Baumbach was quite astonished with the present but said: "It is too big! My car is small to place it in," what made everyone laughing.
On the accompanying certificate the game: Zagorovsky – F.Baumbach 0-1 from 11th CC World Ch Final 1983 is noted. Surprisingly – the end position in which Zagorovsky resigned after Black's 40…Bd4 is actually applied on the painting, Black pieces painted as German flag (GDR?) – White pieces former Soviet Union.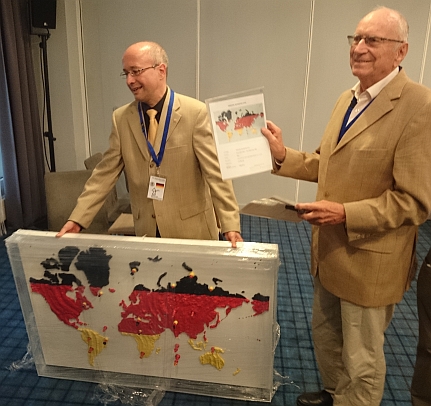 PHOTO 2: (L to R) Dr. Uwe Staroske Congress Organiser and German ND in ICCF holding the painting, GM Fritz Baumbach
In the first part of 9:30-10:30am Opening Ceremony GM Leonardo Ljubičić was given the medal and certificate for becoming 28th ICCF World Champion. (The most attractive part of the trophy — a plaque copy of the Tournament score table will be presented "later", when the remaining 1 game finishes, also of Croatian, GM Davor Krivic, who with a win against Portuguese GM Horácio Neto may even become 3rd.) Exceptional achievement for our Leonardo and his 40 years in correspondence chess and ICCF.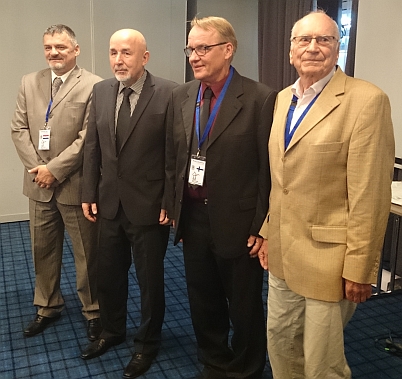 PHOTO-7 (Four ICCF World Champions (L to R): 28 – Leonardo Ljubičić CRO, 24 – Marjan Šemrl SLO, 20 – Pertti Lehikoinen FIN, 11 – Fritz Baumbach GER)
He started playing correspondence chess at the age of 10, and went through all technological evolvements of corr chess from postal cards to server playing and use of chess engines nowadays. He speaks about 2500 corr players in former Yugoslavia and although competitions were under "umbrella" of ICCF "we were more concerned about our regional and country tournaments," he says. On my question whether there was a lower postage rate for corr.cards he waves his hand saying that all clubs had subventions and his local Omiš club would get thousands of preprinted cards and stamps for use by members. Things changed afterwards, but technology as well and by mid 90s email replaced postal chess.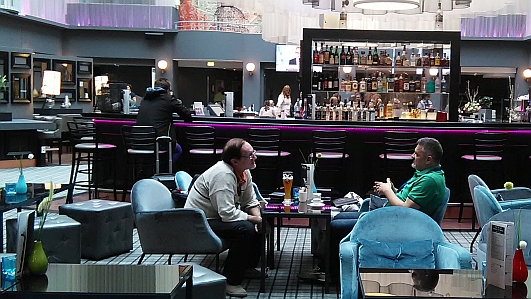 PHOTO-3 (L to R: Author Dalibor Milenkovic talking with GM Ljubičić)
German Olympic team as Olympiad Final XVIII Winner: GM Matthias Kribben, GM Peter Hertel, GM Maximilian Voss, GM Reinhard Moll, GM Arno Nickel, and GM Dr Hans-Dieter Wunderlich received gold medal. As a matter of fact they received another gold medal for the same event. As GM Nickel told me FIDE for the first time recognized corr chess Olympiad and gave their gold medal to the winning German team.
11:00 – 12:30am Title ceremonies went in numerous awards for tournaments and team competitions to be followed with awarding of IM and GM titles. Russia had the largest harvest of titles of all countries.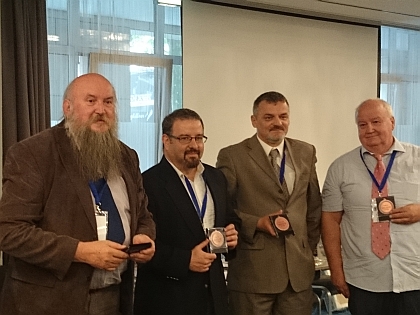 PHOTO-4 Krystyna Radzikowska Memorial. Krystyna Radzikowska (1931-2006) – was the strongest Polish lady chess player for many years. Tied from 3rd till 9th place: L to R: Josef Mrkvička for GM Zdeněk Straka (CZE), GM Dr Jason Bokar (USA), GM Leonardo Ljubičić (CRO), GM Matjaž Pirš (GER).
It was voted and adopted unanimously to posthumously award the title of IM to deceased American Glen D. Shields, who has missed only one game for this achievement. Dr Jason Bokar as ICCF National Delegate for the United States of America and ICCF Zone Three Director received the IM certificate and a medal on behalf of deceased Glen D. Shields.
Dr Jason spoke how much it will mean to family – this post mortem receiving the certificate.
PHOTO-5
Dr Jason Bokar as ICCF National Delegate for USA also received the CCE certificate and a medal on behalf of Angel Hernandez (2365), who got the first such title, since the CCE and CCM titles were introduced at the last ICCF congress in Cardiff, Wales 2015.
PHOTO-6
Croatia, like some other smaller country associations had only one IM title, in this period since the last ICCF congress, awarded to IM Franjo Lovakovic. I played him with Black in Ruy Lopez, Jaenisch Gambit, and the game after 85 moves and 18 months went to adjudication — so he won.
Here we come to one of the major proposal for changing in ICCF rules. Namely, every year Congress also discuss a number of proposals to change and improve various aspects of its organization, modals of playing -server and postal, as well as playing conditions and rules. This major change called Triple-Block System ("TriBl") would substantially change tempo of playing. In a way it is similar to current most popular OTB playing conditions 90min/40moves + 30min till the end of game plus 30sec bonus/per move from 1st move. Translated to corr chess, a committee, known as Dennis Doren (ICCF Rules Commissioner) committee consisting, besides Mr. Doren, of General Secretary SIM Michael Millstone, Services Director Austin Lockwood, Zone 2 Director SIM Gino Franco Figlio, and 26th World Champion GM Ron Langeveld
made a unique proposal for corr.chess game time limits.
See the PowerPoint presentation:
https://onedrive.live.com/view.aspx?resid=6C557D8972A60E34!507369&ithint=file%2cpptx&app=PowerPoint&authkey=!AKR1Eg-FiMGQz10
Basically it is 50 days at the beginning of a game + 50 days bank time and 1-5days bonus/per move from 1st move. BUT and here comes the catch – bonus, which can be cumulated with bank time, is given only up to 50 moves!? Taking 1d/move after 50moves both players, providing that they played 1move/day, will have 100 days till the end of a game. Continuing with a same tempo 1move/day maximum length of a game can be
150 moves. In 150.White – remains with 0 days, 150…Black remains with 0 days. 151.White to move loses as his flag falls. Therefore, with everything equal and without '50 move rule' White loses on force in 151.move ?!
It seems that major expectation of the Triple-Block playing tempo is guaranteed end of a game for a stipulated period – and in that sense specially binding the correspondence chess Olympiad to exactly 4 years cycles. However, some postal players are afraid that in effect this rule will create "blitz corr chess" conditions of playing, although Doren's presentation of "TriBl" explicitly states that the "system [is] for use in server-based events only. This new system was not designed for postal or email events."
After heated discussion left for the end session of Congress, where most of the delegates objected to the fact that the new system does not imply any increment after 50 move voting took place only after assurances that "TriBl" is a test condition, which could take several years, and is not for use in all ICCF events. And since after test period it can be rejected it passed with 25 for, 15 against and 16 abstained.
But in opinion of GM Arno Nickel and not only his – shorter game time limits as "TriBl" contradict the spirit of correspondence chess and ignore the fact that it can be very strenuous in the long run because of family obligations, health, business trips etc.