I have never done before something like this: backing/sponsoring a media project. In this case it was a documentary/musical movie about Peace Old Jazz Band: World's oldest Band, from Shanghai. See them on YouTube:
www.youtube.com/watch?v=7pAd3P6JWNs
and on fb
www.facebook.com/PeaceOldJazzBandMovie
Time to tell the world about it!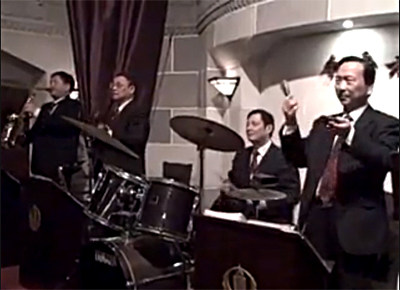 Project by Flying Moon, Berlin, Germany – Helge Albers:
www.kickstarter.com/projects/flyingmoon/peace-old-jazz-band
through ingenious funding scheme Kickstarter.com
As one of my most valuable CD/vynil is "Tribute to the Swinging Pioneers of Malta", double CD of memories from the time of Valletta bars and NATO soldiers, this one brings similar feelings and joy of music.
It is a documentary movie by German cineast Uli Gaulke who says:
"We have finished principal photography on the film. The film was shot over a period of almost one year from June 2011 until April 2012.
We are currently in the process of editing. We expect the editing to be finished by October 2012, so a launch in early 2013 is a very realistic goal, meaning you will see the results of your support very soon."
Uli Gaulke is from former GDR, Schwerin capital of Mecklenburg-Western Pomerania – my second home. His previous films are "Comrades in Dreams", "Havanna, mi amor" and "Pink Taxi".
They need another $ 7500 (out of $25000 as pledging amount) in order to pay music rights, as you will learn from the Video trailer on www.kickstarter.com/projects/flyingmoon/peace-old-jazz-band
and there are only 3 days left! I hope it will pick-up as eBay auctions on the last day. Support them and spread the word.